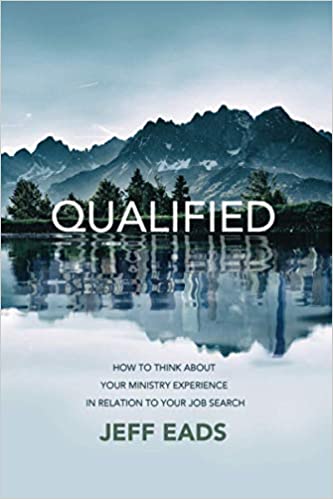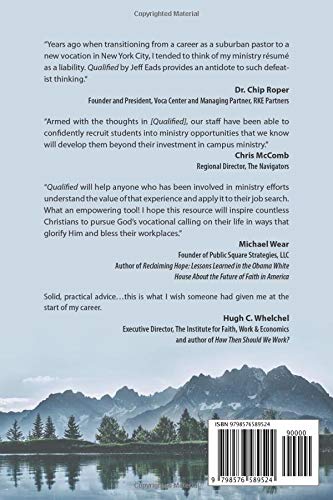 Qualified: How to think about your ministry experience in relation to your job search
Regular price
$6.99
Sale price
$4.99
---
Have you ever served in your campus ministry or gone on a mission trip? Have you ever worked at a summer camp or volunteered for your church's youth ministry? Do you add these experiences to your resume? Is it strange to bring them up in an interview? Is your ministry experience an advantage or a deficit in your search for employment?
In this quick read, Jeff Eads draws from his years of experience providing career coaching along with his own professional journey. You will be glad to discover that your time spent serving in ministry has also prepared you for others roles too. Through practical examples and reflective questions, Jeff will help you frame your experiences to highlight the skills that have qualified you for your future career. The reader will consider eight specific competencies in relation to common ministry experiences.
"Solid, practical advice...this is what I wish someone had given me at the start of my career." Hugh C. Whelchel, Executive Director, The Institute for Faith, Work & Economics and author of How Then Should We Work?
"Qualified will help anyone who has been involved in ministry efforts understand the value of that experience and apply it to their job search. What an empowering tool! I hope this resource will inspire countless Christians to pursue God's vocational calling on their life in ways that glorify Him and bless their workplaces." Michael Wear, Founder of Public Square Strategies, LLC Author of Reclaiming Hope: Lessons Learned in the Obama White House About the Future of Faith in America
"Years ago when transitioning from a career as a suburban pastor to a new vocation in New York City, I tended to think of my ministry résumé as a liability. Qualified by Jeff Eads provides an antidote to such defeatist thinking. He conclusively demonstrates that those of us who have served in ministries are experts in the top eight skills employers seek. This reframing of our work history provides the vocabulary and confidence we need to seek God's next assignment in the wider world of work. I highly recommend this resource." Dr. Chip Roper, Founder and President of the Voca Center and Managing Partner at RKE Partners
"In Qualified, Jeff Eads brilliantly gives practical examples of how ministry experience prepares Christians for work in any industry. His words will encourage and empower Christian students to confidently pursue careers in all professional spheres and also be about kingdom renewal in the workplace." Jonathan Ingraham, Executive Director, Chattanooga Faith + Work + Culture
"Qualified is a small but mighty resource for college students and young professionals. Jeff provides important insight to help guide those looking for help considering what's next. He addresses eight competencies with theological depth and practical help that not only help readers take the next step, but live a lifetime of faithfulness in their careers." Dr. Drew Moser co-author, Ready or Not: Leaning into Life in Our Twenties and author, The Enneagram of Discernment: The Way of Vocation, Wisdom, & Practice
"We are so grateful for Jeff's insight and expertise. Because our campus staff are not experts in the world of career counseling, they have benefited from Jeff's guidance in helping translate students' ministry experience into language that any employer would understand in a résumé or interview. Armed with the thoughts in [Qualified], our staff have been able to confidently recruit students into ministry opportunities that we know will develop them beyond their investment in campus ministry." Chris McComb, Regional Director, The Navigators
---