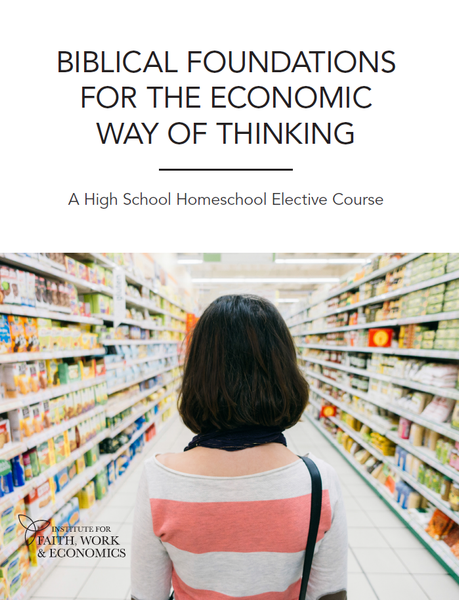 Biblical Foundations for the Economic Way of Thinking: A High School Homeschool Elective Course
Regular price
$49.99
Sale price
$39.99
---
This course guides students through an in-depth, biblical exploration of the basic principles of economics. Using a variety of readings, students will learn how thinking economically can provide a framework for living that fits God's design, brings him glory, and allows them to experience fulfillment in their lives. 
What makes this course unique is its emphasis on learning the biblical foundations for economics as a necessary component of making God-honoring decisions. 
Students who take this course will see how living out biblical economic principles empowers them to live faithfully as Christians, to flourish and to contribute to the flourishing of their families, communities, nation, and ultimately, the world. 
Course includes:
A seventeen-module textbook (83 pages, paperback)

A teacher's guide, including a grading rubric with suggested answers and guidelines (48 pages, paperback)

Additional reading links, available on IFWE's homeschool website
IFWE contributors include Anne Rathbone Bradley, Ph.D. and Gregory Ayers. 
To learn more and to download free sample lessons, visit IFWE's homeschool website. 
Read reviews by homeschool bloggers: 
"High School Economics for Christians" (Living, Unabridged blog)
"A Refreshing Approach: A Free Market Economics Homeschool Curriculum" (Annie and Everything) 
"Homeschool Elective: Christian Economics Curriculum" (Contented at Home)
"Preparing for High School: Christian Economics Curriculum" (A Diligent Heart)
"Economics for the Christian Homeschool" (Sam's Noggin)
"Christian Economics Curriculum to Help Your Homeschool Teen" (Busy Boys Brigade)
"Homeschool Economics Curriculum: Bible-based from Christian Worldview" (Classic Housewife"
To order more than 50 copies, please allow up to 2-3 weeks for delivery. For questions, please contact orders@tifwe.org.
---